Mainstreaming Ecological Restoration of freshwater-related ecosystems in a Landscape context: INnovation, upscaling and transformation
Europe's environment is in an alarming state, with climate change expected to further aggravate the situation. This poses severe threats to economic prosperity, human wellbeing and social peace – our society needs systemic transformative change.
Ecosystem restoration is key to this change, and freshwaters play an important role: the restoration of streams, rivers, peatlands and wetlands has a long tradition and offers an extensive knowledge base – freshwaters are ideal demonstrators of the necessary change.
The MERLIN project commits to transformative ecosystem restoration, mainstreaming Nature-based Solutions for the urgent systemic change of our society.
---
MERLIN webinars
The MERLIN project is offering a monthy webinar-series on (freshwater) restoration-related topics.
Next webinar #15: Sept 04, 2023, 15h (CEST)
Speaker: N.N.

The MERLIN webinar series is taking a summer break, looking forward to see you in September.
read more
---
MERLIN Innovation Awards 2023
And the MIA - Winners 2023 are..
read more
---
Comments on the draft Nature Restoration Law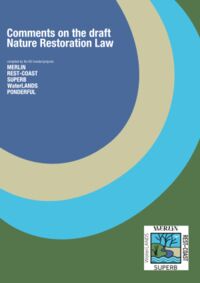 compiled by the EU-funded projects MERLIN, REST-COAST, SUPERB, WaterLANDS and PONDERFUL
Five large EU-funded research projects, all operating at the science-policy interface, jointly analysed the text of the draft Nature Restoration Law. The involved projects include the four projects funded under the Green Deal (Horizon2020) Area 7 topic "Restoring biodiversity and ecosystem services", and represent 168 institutions working at the interface of environmental science, application and policy.
The recommendations listed below result from a science-policy workshop hold in Brussels on 25th November 2022 that was organised by the Research Executive Agency of the European Commission and DG R&I, and attended by the project coordinators and by representatives of EEA, JRC, DG-ENV, DG-AGRI, DG-MARE, DG-REGIO and DG-CLIMA.
---
---
---
... large-scale river and floodplain restoration investments can provide a major economic boost for the restoration sector and for local socioeconomic activities such as tourism and recreation ...